As the school year comes closer to an end, we always seem to slack off in doing the actual school work, yet, somehow we seem to get more done. Â I guess I don't feel as stressed to do this curriculum or that project, and in letting go of that I feel more free to experiment. Â I like that!
This past weekend, Kaia participated in the local Pine Car Derby race and took third place! Â Here is her car zooming past the competition!!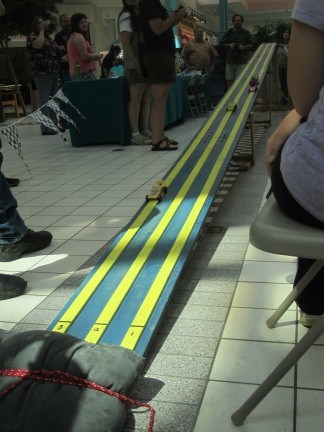 I'm not sure how she got comfortable on the rock wall, but she always finds fun spots to read! Â (yes, her 'pleasure' reading is any book from the Horrible series!)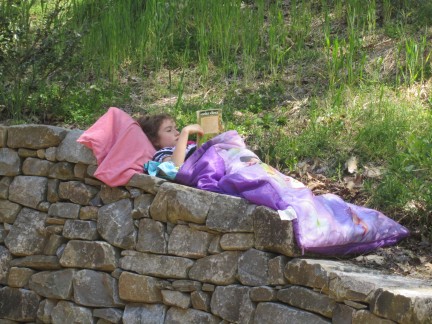 I grabbed a book on Georgia O'Keeffe from the library for an impromptu artist study. Â What a neat woman! Â Kaia and I decided to try our hands at large flower art. Â She's working on her purple pansy here.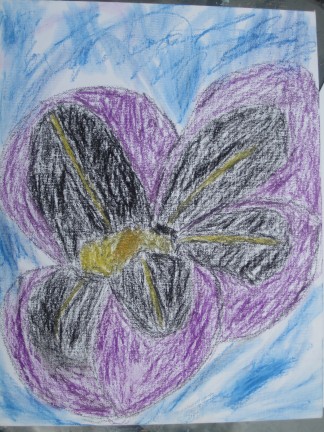 We used oil pastels, so our fingers were very colorful from all the smearing on the canvas.
Here's mine. Â I'm not sure what kind of flower I was looking at. Â It was from a bush up the hill that was covered in little flowers like this.
And tell me, what is it about 3 year olds and chocolate ice cream?
This is Leif from this past weekend:
And here is Kaia from when she was three years old. Â See any theme here? Â (yes, I know, that is a crazy picture. Â I think she stuffed most of the ice cream in her cheeks!)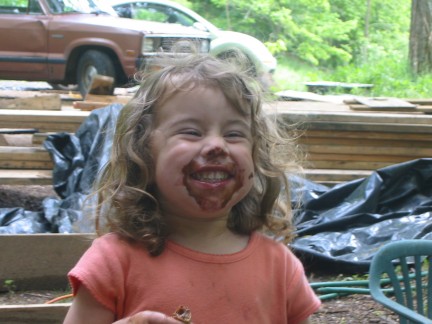 Have a beautiful week!