This summer, Kaia and I decided to consciously study survival skills. Â What would we do if we were without our normal comforts, how would we survive? Â What if she were lost in the forest? Â What if she had to find clean water… food… fire…
I began a long list of things that I would like us to learn. Â Things they don't teach in schools that are supposed to teach our kids how to 'survive' in the big world.
This week, we had a fabulous opportunity to work on this list at the Firefly Gathering. Â Only 50 minutes south of us, once a year, is an amazing gathering of people sharing their primitive survival and sustainable living skills. Â So, Kaia and I packed up our hammocks and headed out.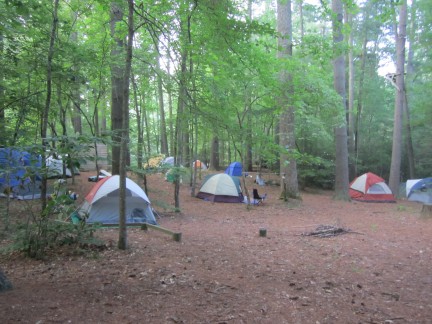 During the 2 days we were there, the woods filled with tents, hammocks, and make-shift living quarters. Â This picture above was taken as we arrived and the woods still seemed quiet. Â We arrived a little early, so we had some time to wonder and explore.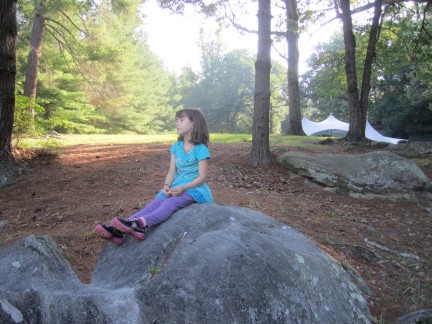 We learned that there are many trade blankets and barter circles, but Kaia and I arrived without bringing anything to trade. Â So, she quickly gathered sticks and began whittling. Â At the trading blanket that we went to, people were looking to trade things like hand blown glass flutes, and hand crafted jewelry and medicines. Â I was worried that no one would want to trade for a simple hand whittled boat. Â But a sweet mother went and got her tie-dyes specifically so she could trade something with Kaia. Â Very kind!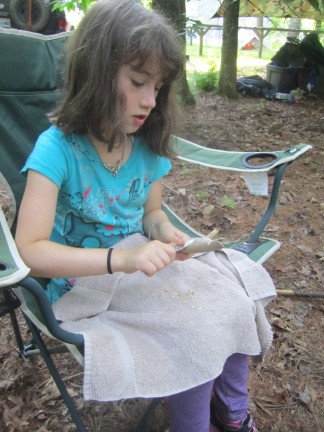 Kaia and I stayed for only two of the 4 days. Â Her birthday is the same weekend as the gathering, so we left early to make cake and have a party. Â But, while we were there, I took a class on starting a fire with flint and steel. Â VERY cool!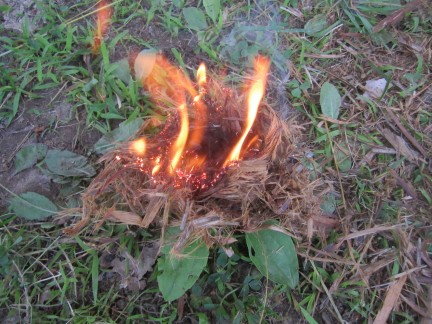 It felt so empowering and satisfying to get a fire going with just a rock, a piece of steel, and some cedar bark! Â I'm planning on making a little kit to carry with me, so watch out people!!
My second class, which Kaia took with me, was on snares and deadfall traps. Â It was a fabulous class. Â I think I'd like to get a book on this to really study some of the traps and snares in more detail.
This is another fancy trap, I think the teacher said it originated in Africa. Â Yes, our teacher wore only a leather loin cloth. Â 🙂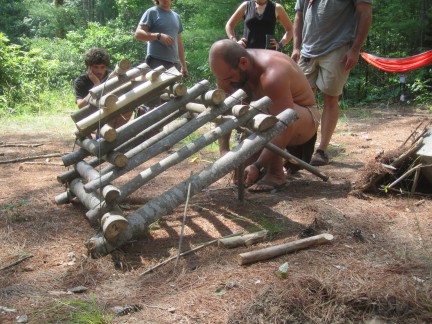 The third class I took was on making and using slingshots. Â I really had no idea how potent slingshots could be. Â I always thought of them as toys, but man, these things really packed a punch! Â We started with a Y branch of a tree, whittled it down, added some rubber bands, and a leather pouch (to hold your ammo). Â I was surprised how similar it is to archery in how you stand and aim. Â I was able to hit targets pretty accurately. Â The teacher is a well known archer and sling shot champion. Â He also creates the most beautiful slingshots I've ever seen.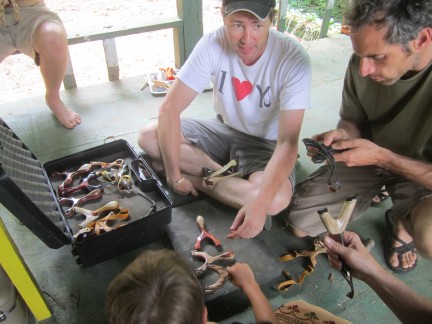 My final class was on starting fire with a bow drill. Â We created all of our equipment. Â I have to say, flint and steel are so much easier. Â I worked my butt off and was able to get lots of smoke and some nice embers, but I just could not get the fire to take. Â By the end of the class, my hands had blisters and my arms were worn out. Â Very fun though. Â I need to practice at home so I can do it if I ever need to.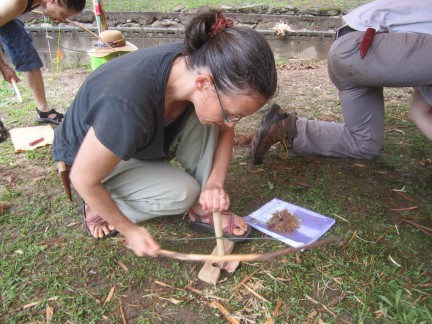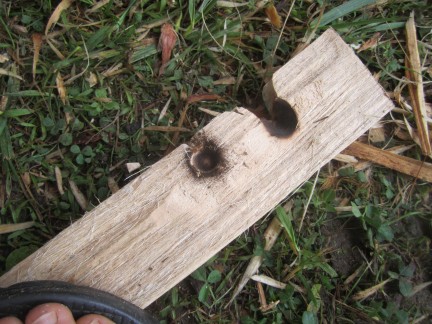 While I was doing all of this, Kaia was also taking classes on basket making and wilderness survival skills. Â We both want to go back for the full 4 days next year!!!