Thanks to Nikki and her birthday gift, I've been having a wonderful time spinning art yarn. Â But, to make art yarn, you need art batts. Â These can be on the pricey side when you are just learning how to spin. Â So, I thought I'd make them myself. Â Usually they are made using a drum carder. Â I don't have one of these and they cost just as much as a new spinning wheel (expensive). Â But, last year, something new appeared on the market called a blending board. Â It's less expensive than a drum carder, but still pricey. Â  So, in an attempt to create my own batts to spin, I've made my own blending board for under $100.
I ordered a piece of blending cloth from Natural Fiber Yarns. Â While I waited for it to arrive, Toby found an old cabinet door that was the perfect size to attach the cloth to. Â He trimmed one end a bit and removed the knob.
Once we had the cloth, we put some wood glue on the door and placed the cloth securely onto the glue.
After the glue dried, Toby used tiny screws to attach the cloth on all edges. Â You could also use a staple gun, but we had lots of little screws laying around.

Then, he attached a cabinet handle to the top edge so that it will be easier for me to carry and hold on to when I'm blending fiber.
I found a 3 foot long 3/8″ dowel that I had laying around the house and cut it in half (photo bomb by the kitty!) Â These will be used to roll the fiber up into a batt.
And I found a cat brush to help with pushing the fiber into the blending cloth.
Then I got to blending. Â Here's how the process looks. Â I gathered all my goodies and began 'painting' them onto the blending board.
First was a beautiful yellow that the kids and I had dyed with turmeric (wool and bamboo). Â You drag it along the pins so that it catches and stretches.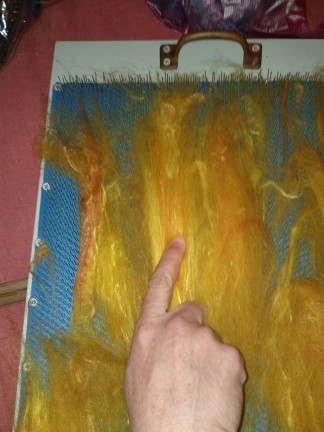 Then, you can use the cat brush (The pins are at an angle so you use the brush upside down so it doesn't pull the fiber right back out) to push the fiber deeper into the pins.
Keep adding stuff until it's full. Â These are blue and white mohair locks.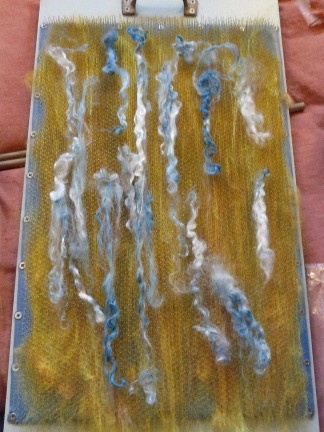 I added sari silk, silk cocoons, tinsel, more wool of different colors, and whatever else I could find.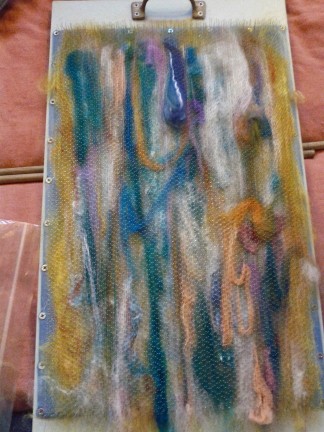 Once it is full, you pull up the end a bit to loosen the fiber. Â Then you place the dowels, one on each side of the fiber, and begin rolling it.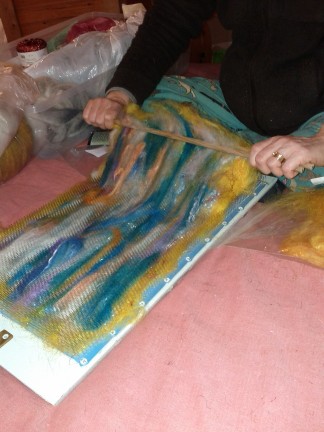 Some of the fiber may stay stuck in the blending board. Â You can pull those up with your fingers or the cat brush and wrap them into the rest of the fiber.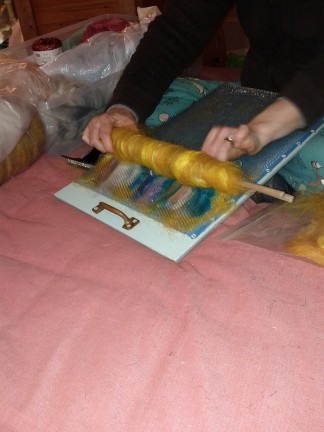 Once you are done, just slide the dowels out and you have yourself a mini batt. Â You pull from one end to start spinning your art yarn.
That's it! Â Now, I must get to spinning!