Hello Friends!  Sorry for the hiatus.  Has it really been almost a month?  Well, I kind of dove head first into the fiber world and am having a blast.  Colorful batts, art yarns, funky fiber jewelry, squishy knits… So much fun!  The kids are also enjoying getting their hands on the fibers and spinning on my wheels.  I have to let go of my selfish urge to hog all of it for myself!  🙂  Oh, and did you notice I said wheels?  YES, I have two.  Well, there are two in my house, but I have neither, yet.  The first wheel is a Louet S-10 that was graciously loaned to me by a friend.  I've had it for over a year now and felt like it was time to return hers and get my own.  Then, along came another gracious woman who offered me a Schacht Matchless ('the cadallac of wheels') for an insanely inexpensive price and I couldn't pass it up!  So, it's at my house for a test drive and I hope to pay for it this week.  Such a beautiful machine!
Here are a few images of what I've been making lately. Â I've got them for sale in my etsy store, but if there's something you would like in a different shade or color, I'd love to make it for you!!
Fiber spun onto a wire core and wrapped into a bracelet!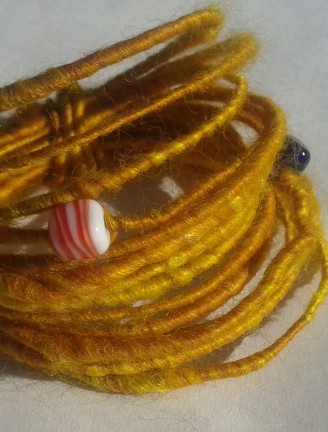 Fiber spun onto a wire, then knitted into a necklace!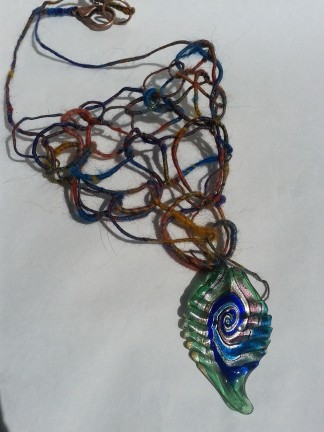 Another lovely bracelet.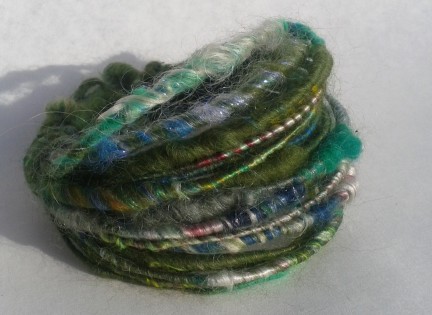 Art yarn twisted into a necklace.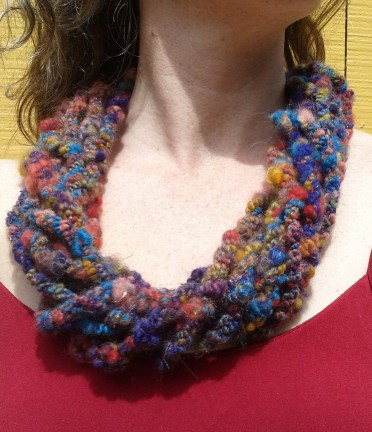 Art Yarn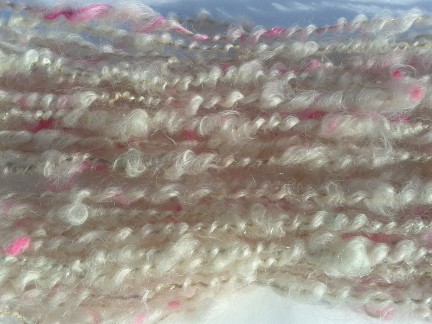 Another lovely bracelet.
More art yarn.
Enjoying a fabulous day at a spinning weekend/camp with Pluckyfluff.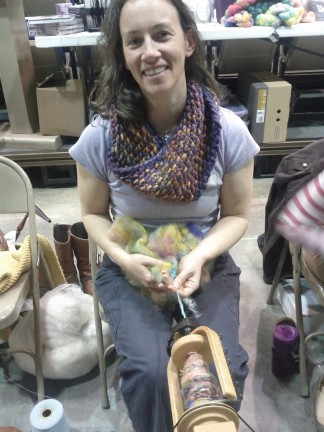 Little man decided that this was his motorcycle and spun for most of the day. Â He is on the Louet and my new Matchless is on the left. Â I can't keep calling her the Matchless, though…. she needs a name. Â Any suggestions?