Hello there! Â And welcome to our third week of travels. Â We continued to explore around the Boulder area, including the areas right outside our home. Â Leif made fast friends with the neighbor's little boy, and they played in the yard almost every morning. Â  They share a love of construction trucks and were wowed by the big compost truck that drove up one morning (Boulder picks up trash, recycling, and all of your compostables!! Â Isn't that awesome?!)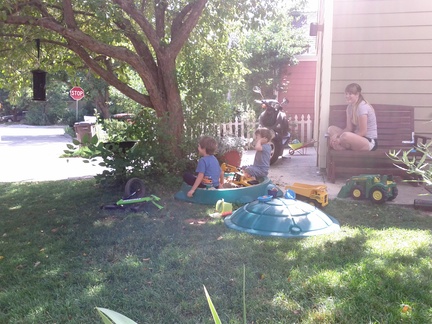 We drove into Denver one rainy day to explore the Denver Museum of Nature and Science. Â We spent many hours there and still couldn't have seen half of it! Â We started with a 3-D IMAX movie about Lemurs, which we all loved, then went on to the dinosaur exhibit…
…the kids hands-on areas…

…learned about water and land formations…
…and saw a mummy exhibit, learned about Colorado wildlife, and more!
We took a day to drive out to Eldorado Springs to swim.  The pool there was part of a resort that opened almost 100 years ago and is fed by natural springs.  So, it's very cold!!  Set up against the Eldorado State Park, the view from the pool is amazing.  The kids enjoyed the super long slide and floating around the pool for a bit, but it was a wee bit too cold for our southern blood (I admit it… I didn't even get in).
Our third week of travel has also been our most trying so far.The kids were getting a bit tired of exploring, so we spent some days just going to a park or watching a movie.  Also, when you spend 24/7 together you can easily get on each other's nerves. I found myself a bit jealous of Toby, who got to go to work three days during the past week.  Yes, I know it's work, but it's still time to yourself  🙂  I thought it might help dynamics a bit to get the kids apart for a while.  So, Friday night, I took Kaia out for dinner, just to two of us.  We drove to the sweet town of Lyons and stopped in at the Lyons Fork restaurant.  It was nice to get out of the city and chill a bit by two aspen trees.  I don't know if I'd ever seen an aspen before this trip.  I do love the way the leaves shake when the wind blows, and the trunks look so wise with the 'eyes' on their bark. (Kind of reminds me of the weirwood trees from Game of Thrones.)
Kaia and I had a decadent meal with truffle fries… (yes, she is really enjoying her root beer!)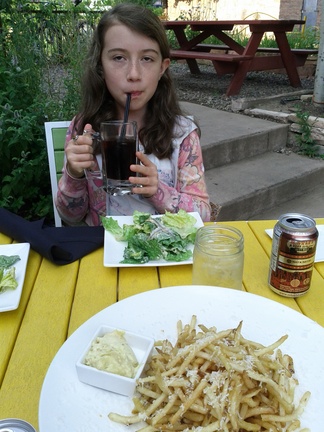 and grilled salmon over parsnips and asparagus, topped with a pesto sauce! Â YUM!! Â  We finished it off with a white chocolate creme brule and drove home very happy.
This morning, we packed up and finally headed back out on the road. Â Our friends were such amazing hosts. Â I can only imagine what it's like to have a whole family move in and take over your space for almost 3 weeks. Â On top of that, they have a young baby and just moved to Boulder a few months ago! Â Wonderful people!
Tonight, we are in the Sunflower Lodge. Â I was lucky enough to stumble on this place through the grand ol' internet. Â The kids were so excited when the owner's kitty came out for some loving (we miss our fur babies)! Â She's not spoiled, is she?
We headed to the Cave of the Winds (ok, how many of you are thinking of farts right now?? Â Tell the truth!) for a little exploring.
You drive up a handful of switch backs to get to the main house where the view is gorgeous.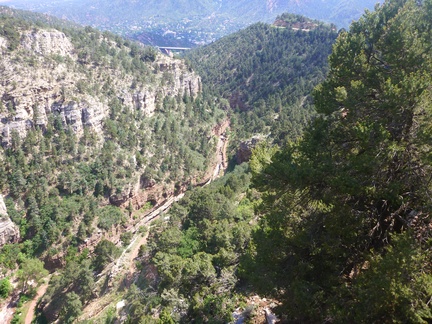 Once inside the cave you'll find an old rope ladder from the original explorers.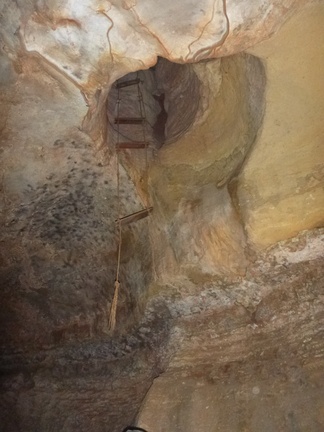 Leif loved calling out the names of the formations when he saw stalactites or stalagmites, popcorn rocks, or crystals.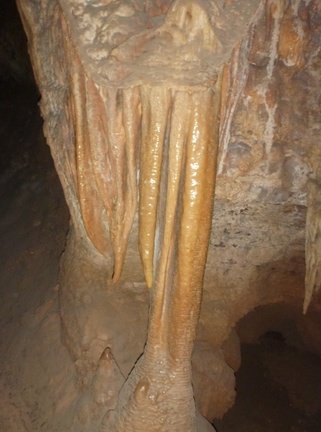 After the tour, we headed to dinner at the Airplane Restaurant! Â The restaurant is built around an old Boeing KC-97 tanker! Â Though there is a restaurant attached we actually got to sit in the plane for dinner.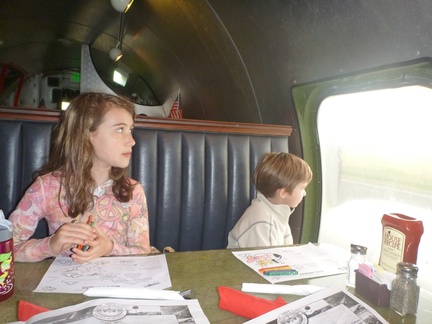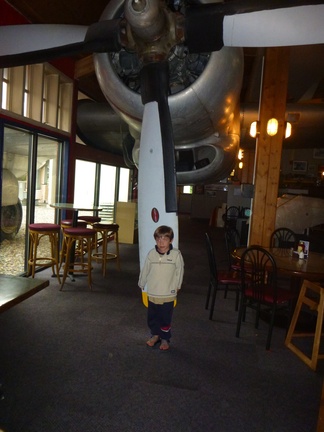 And do a bit of flying. 
Tomorrow starts our final week of travels. Â We have a lot of wonderful things planned (including two train rides!), but I think we are all a bit home sick. Â It will be nice to sleep in our own beds and snuggle up the animals.