I headed in the house after picking up Kaia from school today.  She took a while getting her stuff gathered up and then followed me into the house a while later.  When she finally came in she said, "Mom, there is a chicken in the car.  I tried to get her out, but she wanted to stay."  Suuuure, I thought!  Kaia likes to play joke and it would be just like her to make me go all the way out to the car only to yell after me "just kidding".  But, she seemed serious, so I headed out there and this is what I found: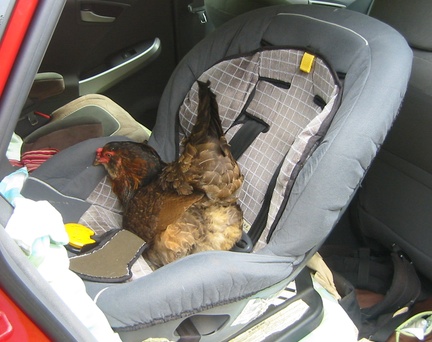 Apparently, my son's car seat is a very comfortable place for an afternoon nap!
Now every time I open the car, she jumps the chicken fence, runs up to the car and hops in.  Maybe I'll take her along for the ride the next time I go pick my daughter up at school 🙂
This is one of the chickens that I got from a friend last month.  She is an Ameraucana, so I've just been calling her "one of those ameraucanas", but a sweet little bird like this needs a proper name. Contest Time!
Name That Chicken
Here are her details:
Like I said, she is an Ameraucana and lays blue/green eggs.  She is a deep golden brown color.  She is very sweet and lets me pick her up and carry her.  She is smart because she can get out of our 6 foot fencing, somehow.  She is sociable and would come into the house to hang out if we let her.  And she is not a fan of male attention (she runs away from the rooster any time he tries to have his manly way with her).  So what should I name her?  Send me all of your suggestions!  Kaia is the contest judge and will pick the winning name.  The winner will get something I've made.  I'm not sure what yet… but it will be great!! :-)  Make sure you leave a way to contact you if you don't have a blog.  Have your entries in by Sunday, Sept 20th.  I'll announce the winner on the 21st.  Good Luck!