Well, it looks like we will be hanging out on our land for a few days, possibly weeks :-)  We are getting more snow that I've seen in 16 years!  It's a beautiful winter wonderland here, and Kaia is having the time of her life!  She's been in and out all day, coming in just long enough to let her clothes dry by the fire and then she's back outside.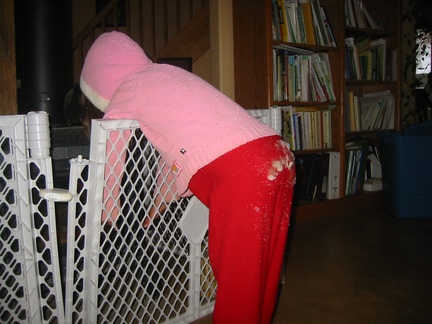 I've been fighting a cold, along with a nasty fever, so I stayed by the fire and knit all day!  I'm working on Leif's first pair of mittens.  It brought back wonderful memories of my great-aunt Pearl.  She lived in NH, and though my sister and I grew up in Miami, great-aunt Pearl knit us a new pair of mittens every year.  We always looked forward to them!  Maybe I'll carry on that tradition and knit a new pair of mittens and a hat for Kaia and Leif each year!
While I was knitting, Leif was kind enough to entertain himself with a ball of yarn and the phone (if we prank called you today, sorry!)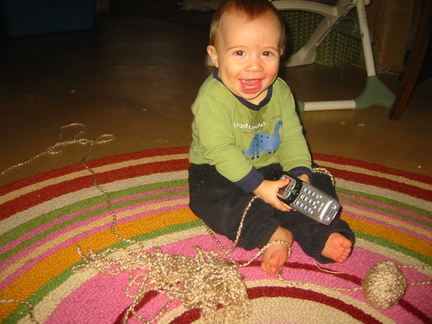 I took him outside for a bit, but he really wasn't sure what to make of it all…
My garden is in there somewhere…
Measuring the snow… So far we have 13 inches!
Yes, that is our lawn chair they are sitting in!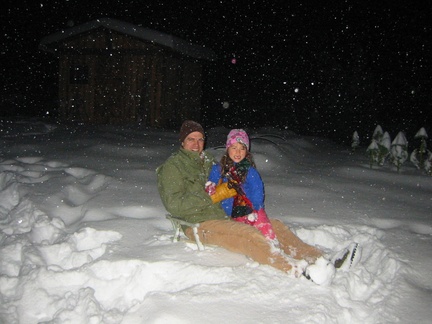 We just happened to go to the library earlier this week and got lots of books about snow and winter.  One we picked up was absolutely perfect for a day like today.
Houndsley and Catina is a lovely book about the quiet and peace two friends find in the first snow of winter.
Sleep tight!