This week was the first official full week of Kaia and I homeschooling and we had a great time.  Along with the standard weekly math, spelling/language, and stuff, we've begun studying prehistoric times (Thanks to Sarah for the curriculum!).  We started by doing our own little recreation of the Big Bang.  Kaia stuffed a balloon with all the confetti and glitter that she could.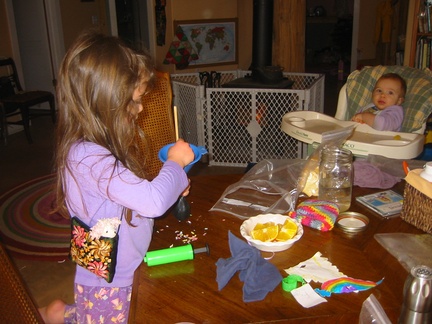 Then I blew the balloon up and attached it to a post.  I also tied a bamboo skewer to the end of a broom for her to pop the balloon with (I thought it would be better if we were farther away from the balloon so that all the stuffing could burst out without us in the way, and spread across the snow like a new solar system.)   We were both in hysterics watching her trying to lance the balloon as it bounced this way and that.  When she finally got it, we were both surprised and screamed!  Then, all the stuffing fell like a lead weight straight down.  A few stray confetti flew off with the wind.  Kaia said, "Well, that wasn't really a Big Bang, was it?"  It was hysterical!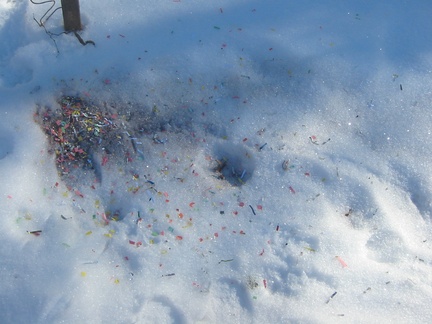 Later in the week, Kaia tried hopscotch on her prehistoric timeline.  She had a blast, especially when the giant Leifasaurus tried to grab her as she hopped by.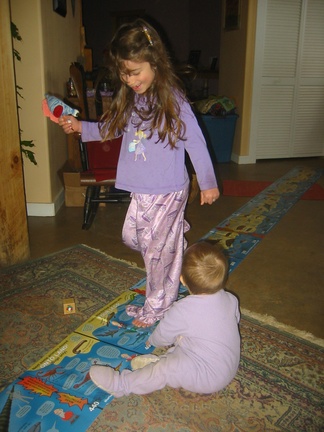 And occasionally the Leifasaurus would plant his cute patoot in the middle of the time line and refuse to move!
Chasing and attacking the time traveler can be such fun!
But, he decided to let Kaia finish her exploration of the prehistoric time periods while he watched from his sweet wooden swing.  Leifasauruses need to play, too, you know!