Finally, it's gotten above 35 degrees!!  The snow has been on the ground for a month and it seems like every morning I'll wake up to a little more!  The past few days it's gotten up into the 50's and it's been wonderful!  The chickens are having a field day taking dirt baths and stretching out in the sun.
Speaking of chickens… have you ever heard of longcrowers?  Check this rooster out!  If you have crappy neighbors, you need to get you one of these babies!!!
Kaia and I had a great week of school!  She always starts with math.  She loves using the abacus.  Most of what we are doing is review as we try to get caught up to her skill level in her new math program.  She's really enjoying so much hands on and not a lot of workbook pages.  Leif really likes the abacus too… I'm going to need to get him one of his own 🙂
She's also enjoying spelling, and usually does more than one lesson a day.  There is a chart that comes with the program that you mark off each lesson you complete.  She's on a mission to put stickers on the chart as fast as she can.  It really is amazing how fast she is progressing, though.  She's soaking it all up.  It's not that they didn't teach it at her old school, but the kids had the choice to spend their day how they wanted and she always wanted to color.  Me… I'm a task master.  I think it's important for her to start learning this stuff, so if I present it to her in a way that she enjoys, then we both win.  All About Spelling has lots of hands on too… she's all about that!  Her reading skills are really blossoming!  She's feeling so much more confident and she's started reading to Leif, writing letters to friends…
This week we also continued with Prehistory and the Precambrian period.  We've started making a time line similar to this one.  It's fun to see the way her mind works with stuff like this.  As she is filling in the pages, everything she pastes on the page goes in perfect alignment with the last piece.  It's all square and in order.  Funny how some things must be in their proper place while other things (like her room) can be chaos!  We focused on volcanoes this week and she made one out of model clay.  We were supposed to create an eruption (with baking soda and vinegar) but she wanted to make a volcano just like Mako Island (from the show H2O: Just add Water, the Australian show about kids that are mermaids).  So, she didn't want to make it erupt.
Here are her little hands hard at work.  You can see the secret entrance to the magic cave where the girls turn into mermaids.
She pulled the top of the volcano off so that she could paint the magic pool of water inside!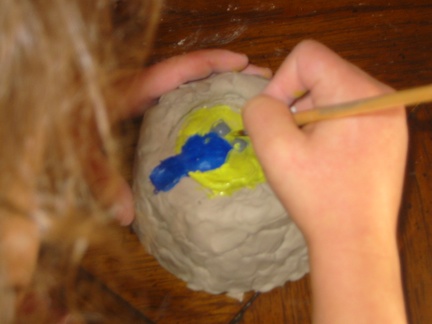 And here it is… Mako Island in all it's glory!  I think she should call it Phallic Island 🙂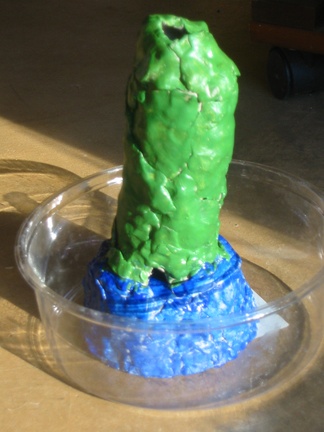 Leif is keeping me on my toes, too.  He finds all kinds of stuff to keep himself busy while I'm occupied with Kaia… like boxes full of shredded paper:
Even with his hands in the box, he can still give you a great "Who Me???  What did I do??"  look!
While we aren't busy doing fun learny-type stuff, I've begun planning this years garden.  My cucumber, peas, greens, and beans did fabulous last year, but the squashes (winter, summer, and pumpkins) got hit hard by borers, and the tomatoes and melons just crapped out.  So, I'm going to fill each bed with a good helping of chicken poop compost to see if that helps the soil.  I'm also rotating what goes into each bed so that the heavy feeders aren't draining the soil in the same place.  I think the only thing I'm going to drop from my list is melons.  I've never had good luck with them… you can't can them up and save them for the winter, and for the space they take, you get so little return.  I'll just buy them at the markets when they are in season and use that space for other goodies.  I've never had luck with Eggplant either, but it's supposed to be so easy to grow.  I think I'm going to try the good-old standard eggplant this year instead of trying to grow the skinny kinds.   How do you grow your eggplant?