It seems that every new school year Kaia picks a subject to rebel against. Â Last year, she did whatever she could to get out of writing in any form. Â So, this year, I'm getting super creative with her assignments. Â If there is more to writing than just sitting down at the table and putting words on lined paper, then it holds her interest more. Â Of course it would. Â Most kids don't want to finish an assignment if they are bored.
So, lately we've been doing Sistine Spelling (tape the paper under your table and write your spelling words a la Michelangelo.
Then there's Invisible Cursive: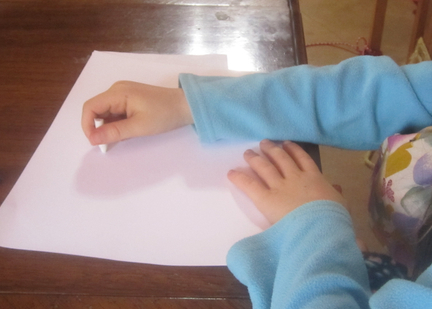 Write your message in white crayon on white paper. Â Then watercolor over it to reveal the message.
Yes, Kaia's secret message to me says "Hag but head.  Bla Bla Bla. Bye."  She realized that she'd spelled 'butt' incorrectly.  It is a very important word to know how to spell when you are 8!
Leif's hands were definitely not idle while Kaia worked.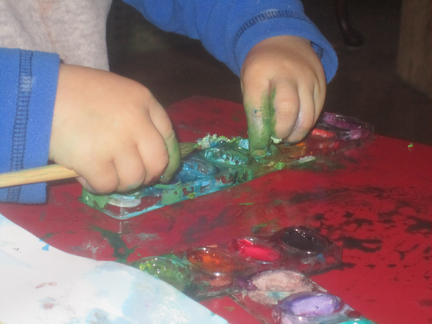 Speaking of Leif, he's been begging me for his own curriculum (yes, he used that word!). Â So, we've started with All About Reading Pre-1Â  I wasn't planning on starting any official schooling with him for a few years. Â He's not even 3 yet. Â But he knows his alphabet and wanted more. Â So far this is perfect for him. Â Kaia likes to join in his lessons and be my assistant teacher, and they both love using their magnetic doodle writer thingies (what are those things called anyway?)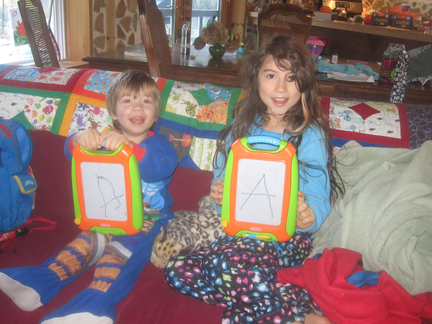 How do you get creative with your lessons? Â I'd love to hear your suggestions!