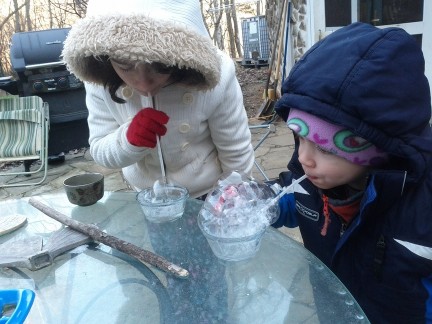 Like much of the rest of the country, we've been hit by an arctic blast today, so we thought we'd get outside (all bundled up, of course) and have a little fun with the cold.
First, we put some bubble fluid in small bowls and used straws to blow bubbles. Â At first, they just froze and popped. Â But as the bubbles tumbled out of the bowl we noticed that some of them were freezing to the side of the bowl or the table before they popped. Â If you touched them, they would shatter like glass. Â So very cool!
The aftermath looks like broken glass, doesn't it?
Then we decided to fill up some balloons and ice cube trays with colored water and leave them outside to freeze.
These turned out so lovely. (We popped the frozen ice cubes out of their trays and put them all in water to refreeze.)
After taking pictures we put the ice back outside. Â Tomorrow we plan to bring them in and use them to make ice paintings on thick white paper.