No, not a human baby, but a new spinning wheel!!! Â Woohoo! Â Isn't she amazing?
I've been borrowing a wheel from a very generous friend for the past year and a half.  I figured it was far past time that I get my own.    I began the hunt this winter and couldn't pass up the opportunity to get this lovely wheel.  It was owned by an amazing artist who passed away 8 years ago and has been sitting unused ever since.  For the past couple of months I've been waiting on parts that I needed to make her work and then passed her on to a super talented friend who decorated her with poppies and butterflies.  I got her back this morning and finally had a chance to sit down and spin.  Wheeeeeeeee!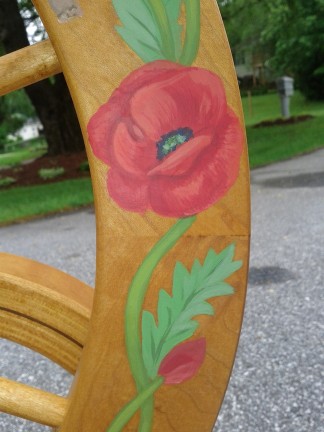 The wheel is made by Schacht and is called a Matchless….. but that just won't do. Â She needs a proper name. Â Here's where you come in! Â CONTEST! 🙂
I'm having a naming contest on my FaceBook page.  What do you think I should name her?  Leave me a comment on my facebook page and, if I like your name best, you will win a hand spun, wire core bracelet from my etsy store (or I'll spin you one in your favorite colors)!  If you share the contest on your page you get a second chance to win!!  Don't have a FB page?  Just leave your comment here on my blog.  Easy Peasy.