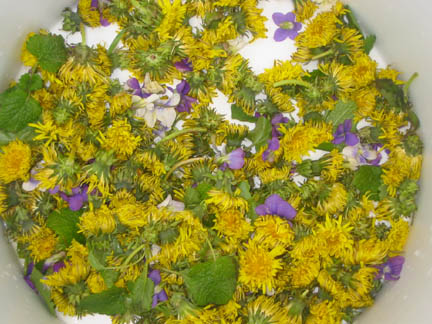 Once the Dandelions started flowering all around, I planned on making a dandelion mead. But, when I went out the other day to gather dandelion flowers, I also found a field full of violets, a wild patch of lemon balm, a huge amount of nettles, and a few other yumminesses. Above is a picture of the bottom of the 5 gallon that I brew my mead in (minus the nettles). Isn't it pretty? I can't wait to sample it!
I taught two herb classes this past week for the local school and felt completely drained. I love teaching community classes about herbalism to people who have no clue about it. Afterwards, I feel energized. But these 3 hour classes to aspiring herbalist just drain me. They make me think too much when I am teaching 🙂 No, seriously, I feel like I am being pulled along by this wave of people who are all doing great herbal things, but may want to be 'bigger' herbalists than I do. Writing books, teaching at conferences… I wouldn't mind being known and making good money, but it's not a goal of mine. In fact, it stresses me out. I really just want to live simply, have time for playing with my family, and to be an effective healer. If I never taught another class or wrote another article, but had enough clients to keep me happily busy, I would be good with that. But, right now, I have to teach classes and write, etc. to get my name known to build clientele. I think lot of it is that I feel like I am teaching over my head. I mean, I know my herbs and all, but I don't know all the constituents in Pipssissewa, and I don't know all the drug/herb interactions for people on cardiac medications. And even when I am teaching anatomy and physiology, I am definitely not an expert and sometimes don't even feel like I should be up there teaching. I don't know what I am trying to say here… I guess, I am just remembering the whole reason that we are on this land and building our own house, and it's not so that I can always be elsewhere trying to make a name for myself as an herbalist. My vision to be a part time herbalist and full time mom/wife/friend/land lover has somehow gotten to fulltime+ herbalist and on occassion mom/wife and even less time for friends and time on the land. Hmmmm… something needs to change.
……..
HOLY SHIT!! The Fridge just blew off the porch!!! The weather man predicted wind gust of up to 65mph for the next 2 days… and the brand new $600 fridge just blew off the porch and landed on a concrete statue! We had 20 eggs in the fridge and now there are only 2 left! The rest are plastered all over the inside of the fridge. Broken bottles everywhere… The whole thing is dented up and the light isn't working. So we don't know if the light is burnt out or if the whole fridge is broken. CRAP, CRAP, CRAP!!!
The out house is blown over now too! Major CRAP!! I'm not looking forward to cleaning that one up! Things are flying all over the place and I keep having visions of the whole house tipping over! I hope the chicken coop stays put!! And I really hope the tin stays on our roof! It is really insane here right now, and a tad bit scary!!