Every year, for my kids birthdays, I make their cake… whatever kind of cake they want. Â I've made unicorn heads, construction sites, Ariel the mermaid sitting on an island floating in the water, and more mermaids….. you name it. Â It's always a fun challenge. Â But, this year when Leif requested a Perry the Platypus cake I was stumped. Â How was I to recreate a little platypus with aqua blue fur without using artificial food coloring? Â There is just no good natural blue. Â Cabbage can be boiled down, but that ends up being more pale blue/grey. Â Blueberries are actually purple. Â Then I found these: Â Butterfly Pea Flowers. Â They grow on vines native to Southeast Asia and are known for their vibrant blue color. Â When steeped in hot water, they color the water a beautiful blue… the perfect blue for Perry the Platypus.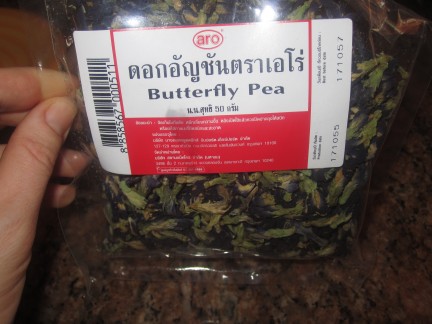 My hope was that the flowers could be infused in oil, too. Â Then I could infuse some coconut oil and use the oil in the frosting. Â But, no such luck. Â The color didn't transfer to the oil at all. Â I heated them in coconut milk and got a light blue, but not the striking blue I was looking for.
So, I decided to infuse them in water, making a very dark blue with lots of flowers. Â I put this blue water over about 6 cups of coconut. Â I used enough water to coat the coconut, but not drown it. Â Then dried the coconut in the oven at 130 degrees stirring it every 30 minutes. Â I think it took about 3 1/2 hours to dry out completely.
And while I was soaking things in this lovely blue water, I decided to throw some hard boiled eggs in there. Â I soaked these for 2 days before the birthday party so that I could make some blue deviled eggs!
Here are a few other pictures of the process of creating Perry:
And here's Perry. Â I put some of the coconut in the frosting as well as coating the whole cake with it after it was frosted. Â It's certainly not as blue as the real Perry, but I think it turned out pretty dang good!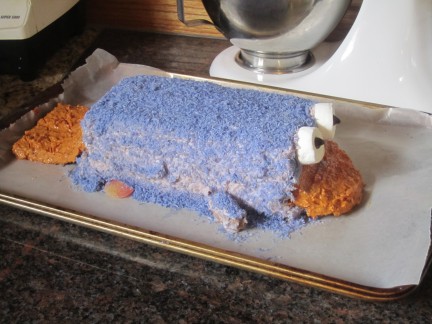 Leif was thoroughly satisfied with his cake!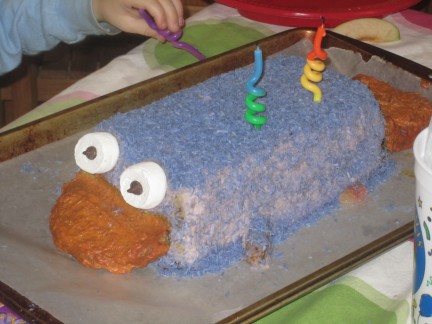 Oh, and with his blue eggs!